Hello everyone!
How are you all? I have been gone for quite some time. Actually, the whole year so far which is crazy to think about. I guess I've just been preoccupied with life and sadly this was pushed to the side. Everyone who is still here, thank you, I greatly appreciate it. This year has flown by with work, university and other personal issues that have taken up my time. I don't know how often I'll post because I still have university but I hope it won't take me the whole rest of the year again.
Anyways another thing I have neglected is taking a part in readathons that I have loved! I haven't been participating in any. I tried last month but failed tremendously haha but this time I'm going to try again and to remind myself, as well as, keep me motivated I am doing a blog post for my TBR.
In August I'm taking part in the Disney-a-thon! I thought this would be a fun one to throw myself into and get me back in the joys of readathons.
Information on readathon:
It runs from the 1st of August to the 31st
This readathon will be based on Disney films and the prompts will be based on the characters within those films. You get to choose which team you want to be on. The options are Enchanted, Alice in Wonderland, Maleficient and Pocahontas. For each team there are five prompts plus a special prompt and a group book for each team.
Each prompt completed earns you points and if you want to sign up you can add your points for your team
Rules:
Need to have a set TBR
Follow the prompts in order
no doubling up on prompts unless you have a special prompt that says you can
If you want to know any further information you can check out the Disney-a-thon thread :).
---
I have chosen team Alice in Wonderland!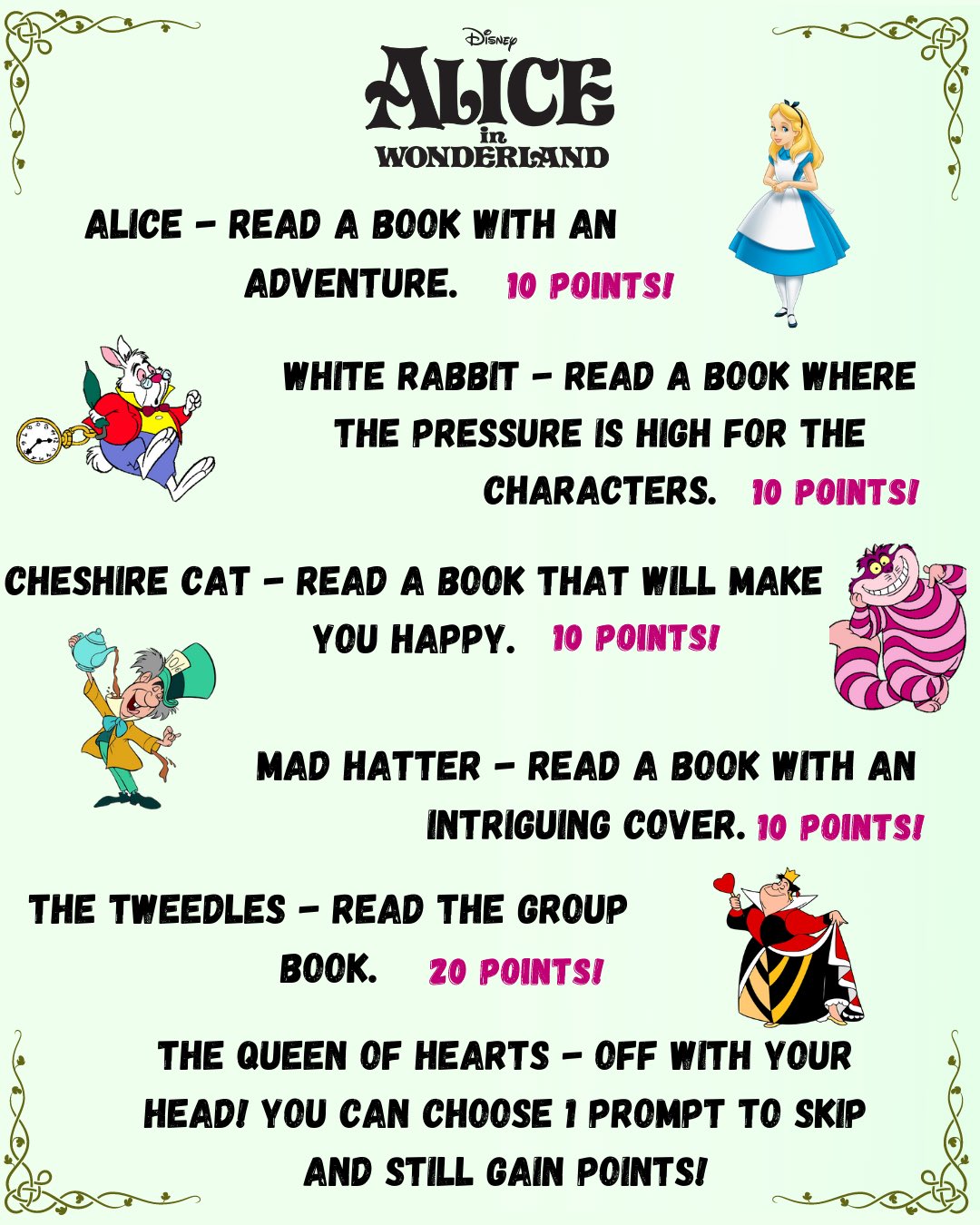 Alice – Read a Book With an Adventure (10 points)
Book – My Calamity Jane by Cynthia Hand, Brodi Ashton and Jodi Meadows
This is last in the Lady Janies series before The Mary series begins this year. Out of the series so far my favourite is still the first book (My Lady Jane) and hopefully this will one that won't disappoint.
White Rabbit – Read a Book Where the Pressure is High for the Characters (10 points)
Book – Obsidio (The Illuminae Files #3) by Amie Kaufman and Jay Kristoff
Another last book in the series so it'll be great to finish off another trilogy. I have really been enjoying this series, especially with the audiobooks. Looking forward to conclude this exciting series.
Cheshire Cat – Read a Book That Will Make You Happy (10 points)
Book – You Had me at Hola by Alexis Daria
This book just looks like a lot of fun. What I gather is that this story revolves around these two actors in a Spanish soap opera but drama starts to unfold behind the scenes too….
Like I said whole lot of fun and romance.
Mad Hatter – Read a Book With an Intriguing Cover (10 points)
Book – Pride and Premeditation by Tirzah Price
This is my latest purchase and just had to fit this in somehow. I love the story of Pride and Prejudice and also enjoy retellings. This has both and involves Elizabeth and Darcy being a part of two competing law firms involved in a murder case. It begins to be a fight on who can reveal the truth of this case first and along the way feelings get involved.
They say it's a great book for those who love the series Stalking Jack the Ripper by Kerri Maniscalco and that is one of my favourite series so it's got to live up to it now. I'm sure I'll love it anyway, it has Pride and Prejudice mixed with a murder mystery. I'm ready.
The Tweedles – Read the Group Book (20 points)
The group book options are:
Heartless by Marissa Meyer
A Blade so Black by L.L. McKinney
The Night Circus by Erin Morgenstein
The Hazel Wood by Melissa Albert
I don't know if I'll be doing any of the group books. I'll be amazed if I can finish the four this month and also I have three out of the four books on this list that I want to read but I have already packed away as I'm in the middle of moving.
---
What readathons are you taking part in this August?
Until next time…
xx